Micro beer brewing equipment/complete beer production line
1.We are factory.
2.We supply good quality and competitive price.
3.We supply installation service.
4.We promise lifetime guarantee.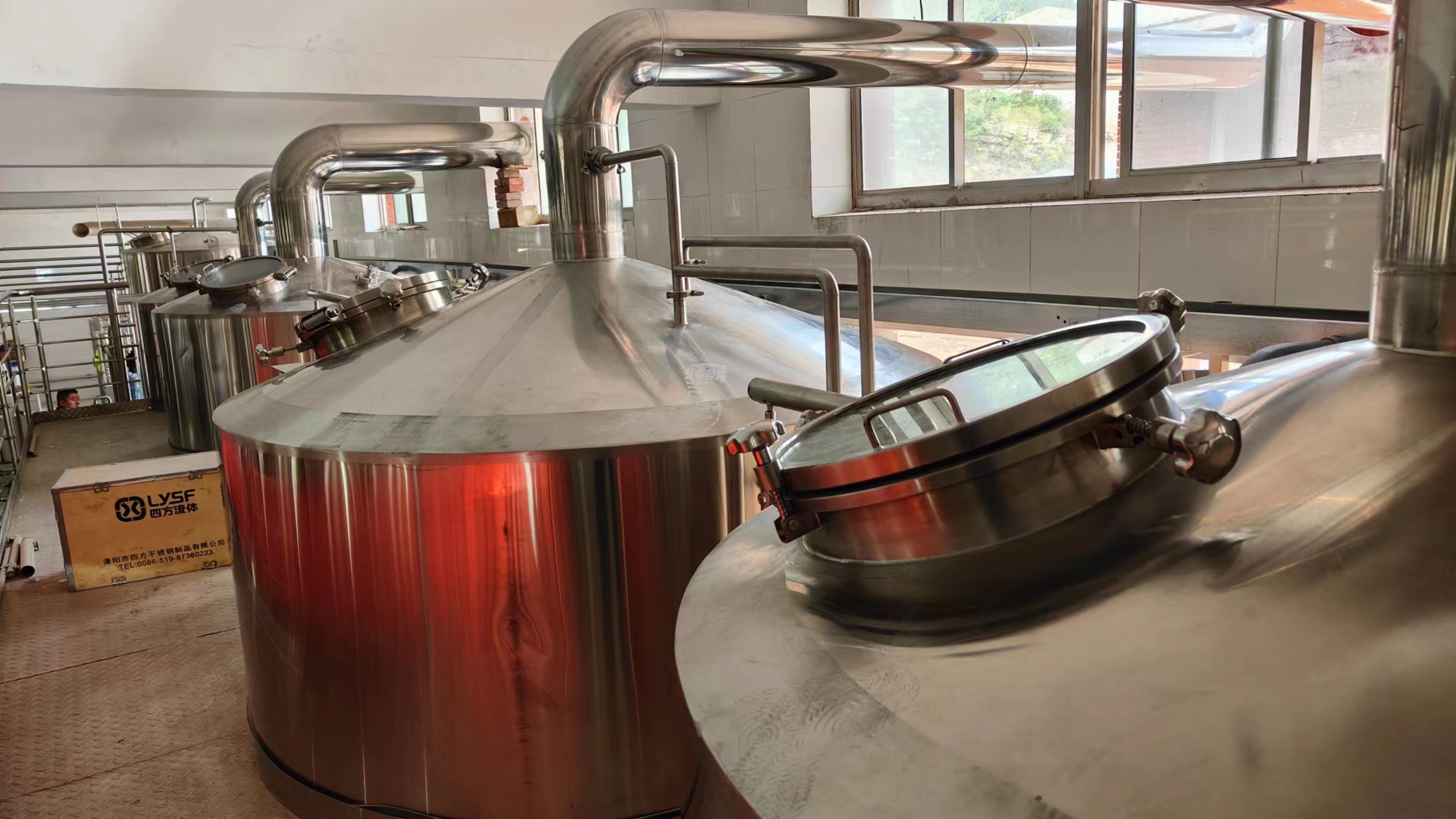 Our products have been exported to all of the world, such as USA, Canada, Mexico, Peru, Costa Rica, Chile, France, Belgium, UK, Singapore, Korea, Australia etc. So we are confident to meet your needs. Now, please follow me to see more details about our products.
The beer brewing equipment is widely used in pub, laboratory, home. The configuration is flexible depending on different working efficiency:
Brewhouse combination is flexible according to your needs and daily work shift. In general, the brewhouse's main tank: mash tun,lauter tun, kettle and whirlpool tank ,from one vessels to five vessels, heating way is electrical or steam heating or direct fire.
Fermenter quantity will depend on beer daily output and beer fermentation cycle.
Cooling system including glycol water tank, pump and chiller. The big cooling capacity used in heat exchanger, for cooling wort.
Control system we have 2 type, PLC control and Digital control system.


BEER BREWING EQUIPMENT / MICRO BREWERY SYSTEM


Components
Specification
Milling System
Miller
Double Roller,Noise<60db
Heating System
Boiler (steam heating)
Electric or steam



Brewhouse System
Mash / Lauter tun
Heating jacket
Material: SUS 304/316 or Red copper
1 Thermometer / tank
Boiling / Whirlpool Tank
Heat-exchanger
Plate type


Fermentation System
Fermentation Tank
Top manway/Side manway
Yeast Adding Tank
SUS304 Stainless Steel


Refrigerator System
Refrigerator machine
With control system
Pump / valve


Ice water tank
Fluorine filling


CIP Cleaning System
Acid Tank
SUS304 full welded
Alkali Tank
Pump


Control System
Control Cabinet
Semi-automatic
Fermentation tanks :
Fermentation tanks body is provided with a sandwich or cold, heating, cooling temperature. Fill the tank with the top and bottom head(or cone) are used spinning R-angle-grinding, polishing tank wall, no health corners, and fully enclosed design ensures that the material is always under a pollution-free status of the mixing, fermentation, air breathing apparatus with hole, CIP cleaning nozzles, manholes and other devices.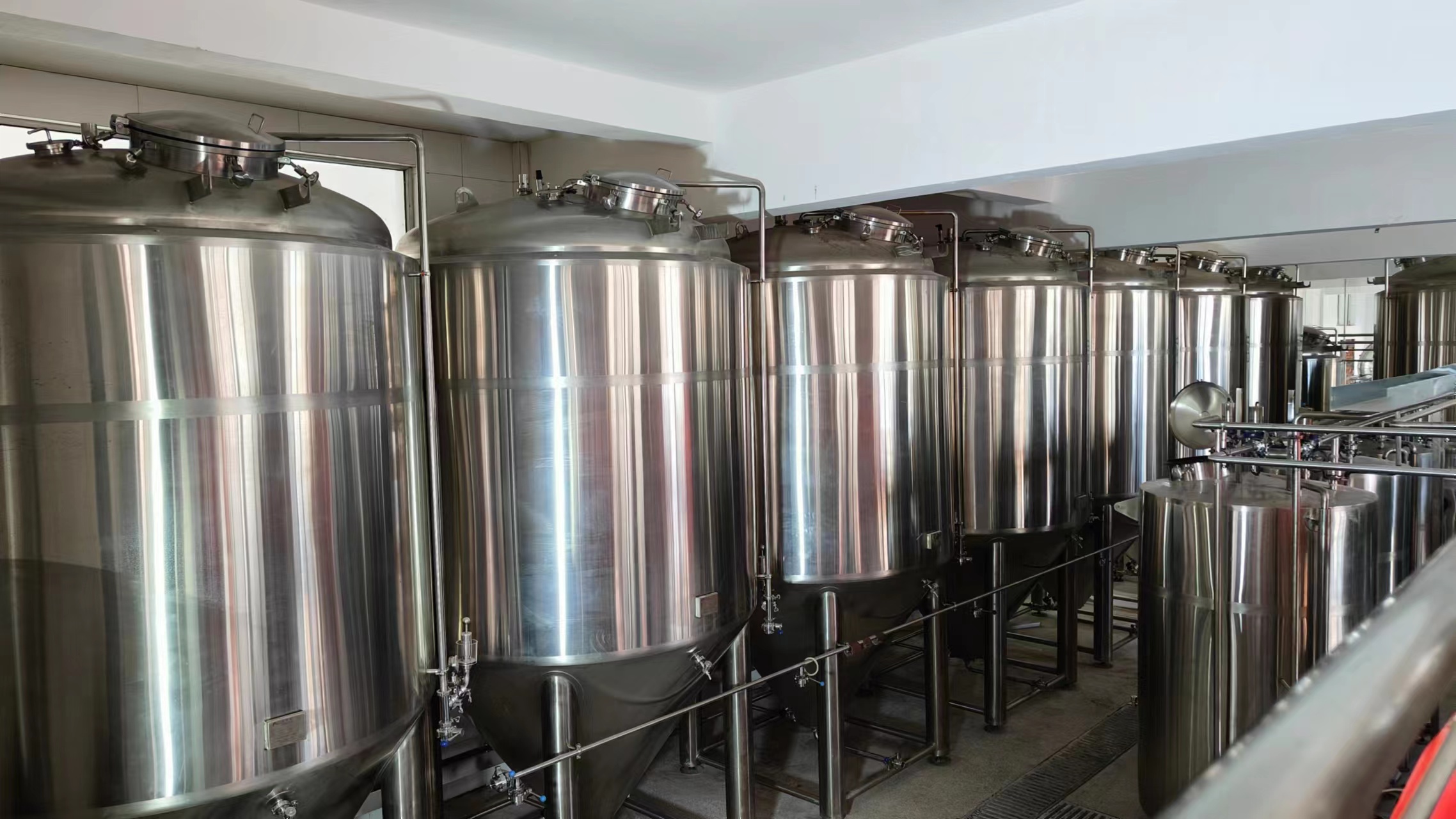 PRODUCT FEATURES:
1)Our Fermentation tanks/tun available from 100L to 20000L (1 gallon to 20 gallon) and average 25% Head Space.
2) All tanks have a Dish top,
3)Cylinder body & 60/70° Cone Bottom.
4)Certified stainless steel(304,316) material for all tanks, with 100% TIG welded joints and seams with sanitary interior polish.
5) Dimple Plate jacket for Glycol cooling & high efficient Polyurethane foam insulated.
6)All tanks use Tri-clamp connections, are designed for up to 14.7 PSI and tested at 30 PSI.
7) We can customize fabricate any tank to meet your brewery's space and height restrictions.

Brewhouses :
Brewhouse is various in combination of vessels, of course to achieve the same four steps mashing,lautering, boiling, whirlpool, by special brewing intentions of brewer including wort output, wort gravity,sparging water, brews in certain time, brewing method etc. TonsenBrew Company accepts special design for these variations.
Our brewhouse system separated to 2 vessels, 3 vessels, 4vessels and 5 vessels, capacity from 100L to 20000L, use electric or steam heat. Semi-automatic control and easy to operate.

PRODUCT FEATURES:
1.Desiging tanks and heating system according to craft, mash tank warming≥10ºC/min
2.Energy saving stir structure : large cross-section impeller, 15r/min speed
3.Sieve plate of filter tank includes welding sieve plate and milling sieve plate.
4.Plow knife of filter tank separated to one foot, feet and bow plow knife
5.Wort boiling heat way includes steam jacket, interior heating and exterior heating.
6.Material includes stainless steel 304, 316 and red copper.
7.Stainless steel brewing platform & integrated stairs or ladder with adjustable foot pads for platform leveling
8.Standard Thermometers and Thermawell Adapters

CIP CLEANING
1) In accordance with sanity requirement and design, structural design very user-friendly, easy to operate. Smooth transmission, low noise.
2) Higher than the design of suitable diameter, on-demand mixing device, energy, agitation, good fermentation results.
3) Inner tank surfaces polished (roughness Ra ≤ 0.8um);each entry and exit ports, mirrors, manhole openings and other technology are used in the tank welding arc stretch flanging process of transition, smooth and easy to clean without dead, the production process to ensure the reliability, stability, in line with NB/T47003.1-2009"welded steel pressure vessel",QB,T2681-2004"stainless steel thin-walled containers for the food industry"and other specifications production.

AUXILIARY EQUIPMENT
Mixer(multi-level or continuously variable transmission); sterile respirator(or sterile positive control); inlet and outlet ports; sterile sampling port; observation Master Kong; slagging servant hole; cold water inlet exports; thermometer; CIP cleaning spray; filtering screen device, extraction apparatus, circulatory system.

Tonsen company introduces the advanced German beer technology,equipped with industry-leading of equipment,include automatic longitudinal seam and girth welding equipment,large automatic polishing equipment,automatic laser cutting machine,spinning equipment,automatic welding equipment,CNC lathes, milling machines,guillotine shear,bending machine and other high-end manufacturing equipment,adopt imported high quality sanitary stainless steel material,follow strict production processing, we produce fermentation equipment with excellent performance, luxurious appearance,smart and cheap .

Our Service:
1.Our market team can serve you in 24 hours, so please feel free to contact at your convinent.
2.Our dedicated engineers can supply 2D,3D drawing for you if you needed.
3.If you need to inspect our factory, we can book the hotel and make the invitation letter for you.
4.Our market team with our engineer with more than 10 years experiences together can satisfy you with any technology problem;
5.Customize machine can be offered(voltage,material,dimension,heating source and so on)
After-service:
1.When shippment, we will supply a whole set of parts for backup.
2.If there is any parts damaged, we are surely can send the part to you in 24 hours.
3.Main machine is 3 years warranty, auxiliary machine is 12 months warranty,
4.electrical components is 18 months warranty, life long service.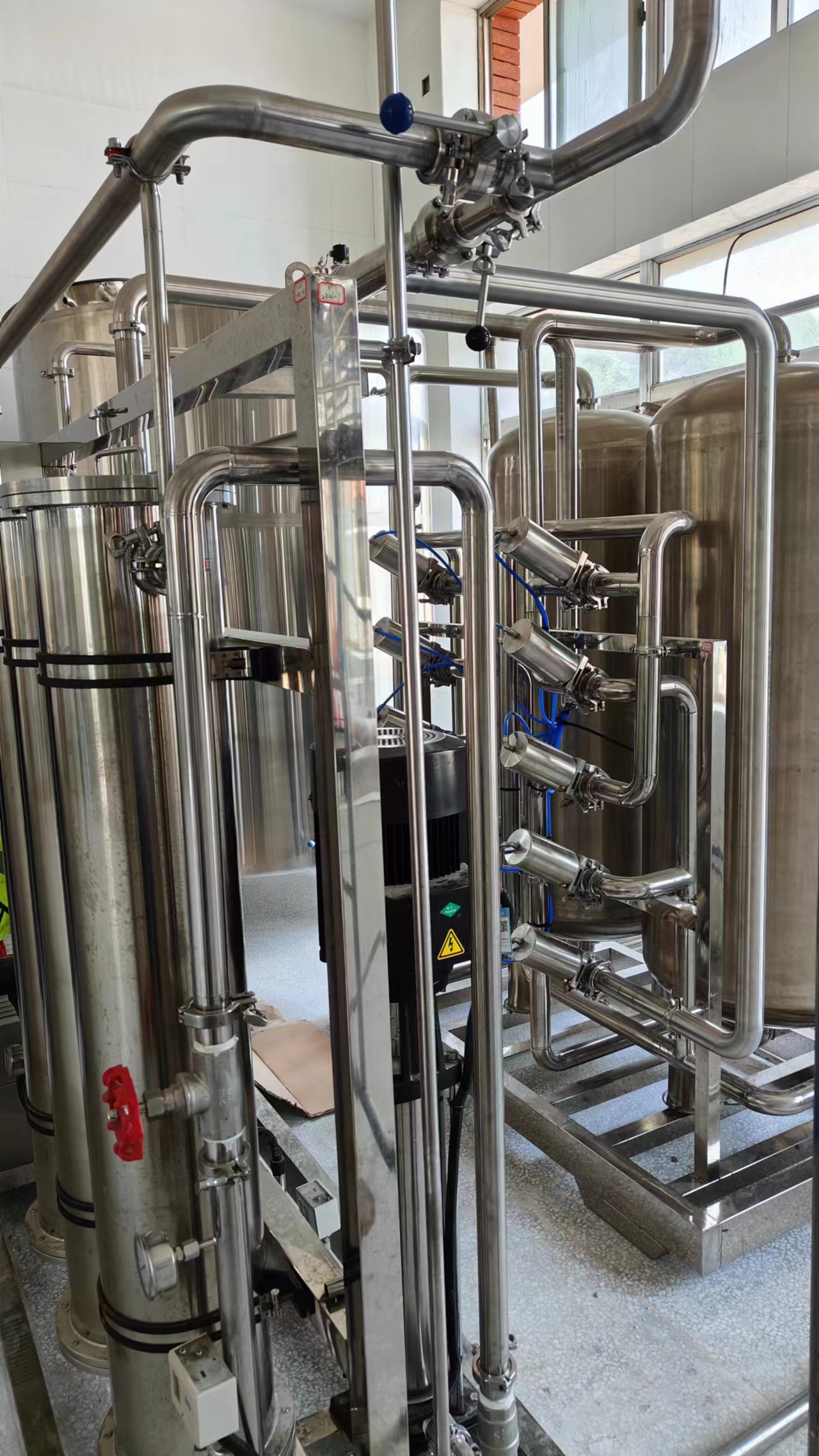 Packing & delivery :
1)All tanks will be packed with soft protection material and mounted on steel frame
2)All accessories and spare parts will be packed with soft protection material and then put into iron box
3)After loaded into containers, all equipment will be fixed to the containers.

FAQ
1.Q: It's the first year(1st year) for you to produce brewing equipments?
A: No. We worked in this business for many years but it's the 1st year to generalize by alibaba

2.Q:How any years does your warranty ?
A:The main equipment for 3 years, auxiliary ones for 1 year.

3.Q;What's your advantage ?
A:We are pioneer and know this business. Our 3 top-level technicists worked in this business over 10 years, 2 senior engineers worked over 8 years, workers average production experience is 3 years.

4.Q: Can you do OEM or ODM?
A: Yes, we can do.

5.Q: How to control temperature ?
A:PLC or digital display meter can control the temperature via connecting with the PT100 sensor.

6.Q: Is possible to supply installation in our country ?
A: Yes, we could supply engineer to supply installation guidance and training.

7.Q: Can your factory produce equipment according to our drawing or samples?
A: Yes, we can do.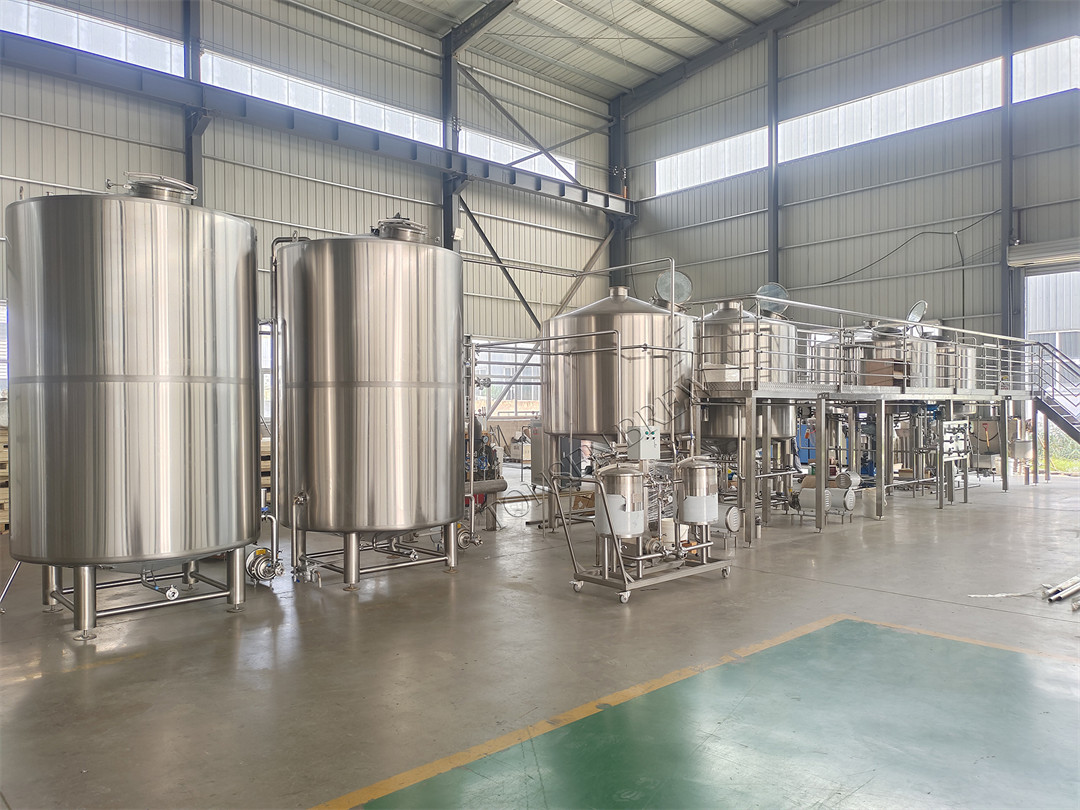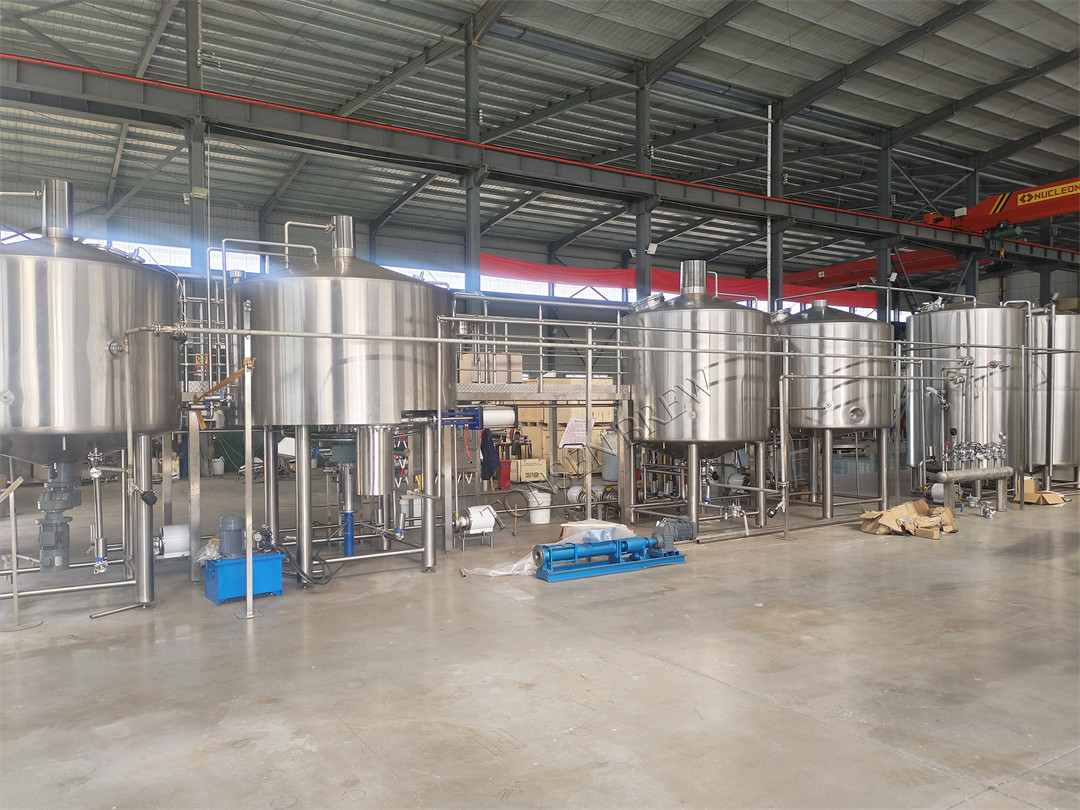 Looking to expand, or get into beer brewery equipment business? Then check out us.
1. TurnKey brewery Project with high level technology.
2. Custom made for any size.
3. International standard stainless steel 304,316 and red copper material.
4. Seamless Welding&8 times Inner polishing.
5. Advanced produce equipment.
6. Leading manufacturer of craft brewing equipment in China.